Share this infographic on your site!
America, Land of Opportunity… and Taxes
If you're a small business owner, you're sure to have a massive headache when it comes to thinking about taxes.
● Does anybody know how long the tax code actually is?
○ 2.5k pages / 5.6 million words (U.S. Representative Rob Portman, OH)
■ "The income tax code and its associated regulations contain almost 5.6 million words — seven times as many words as the Bible. Taxpayers now spend about 5.4 billion hours a year trying to comply with 2,500 pages of tax laws…."
○ 6k pages / 500 million words (U.S. Representative Spencer Bachus AL)
■ "With its 6,000 pages and 500 million words, the complexity of our tax code is the prime source of frustration and anger felt by millions of Americans toward their government."
○ 9k pages / 1 million words (U.S. Representative Bill Archer, TX)
■ "The Internal Revenue Code and regulations now come in at one million words and 9000 pages."
○ 9,471 pages / 7 million words (U.S. Representative Jo Ann Emerson, MO)
■ "The Bible, the guide of our lives, is 1,291 pages and contains 774,746 words. But the Tax Code and its regulations which are referred to by some as, 'a person's worst nightmare come true' is 9,471 pages and over 7 million words."
○ 17k pages / 5.5 million words (U.S. Representative Vito Fossella, NY)
■ "The tax code runs 17,000 pages and contains a mind-boggling 5.5 million words. By way of comparison, War and Peace is only 1,444 pages and the Bible checks in at 1,291 pages."
○ 44k / 5.5 million words (U.S. Representative Jim DeMint, SC)
■ "The federal tax code with its 44,000 pages, 5.5 million words, and 721 different forms is a patchwork maze of complexity and a testament to confusion over common sense."
Compare to:
○ The Bible is 1,291 pages / 788,258 words – King James Bible
○ War and Peace is 1,440 pages / 587,287 words – New American Library Version
○ Obamacare regulations 10,535 pages / 11,588,500 words (approx)
○ Artamène ou le Grand Cyrus is 13,095 pages over 10 volumes / 2,100,000 words
● Taxes are often the biggest bill a small business has to pay
Don't leave yourself in an intaxicated haze
The right moves could save you thousands of dollars.
● Think for yourself
○ Research tax laws to prepare your own taxes or make an informed decision based on information from a tax adviser
● Organize yourself!
○ Keep your records in order all year to save hours and money at tax time
● Use tax laws to your advantage
○ You can significantly reduce taxes you pay by being aware of and using tax laws and incentives
● Use retirement accounts
○ Reduces income tax for you and your employees
● Get help when you need it
○ Tax advisers can be expensive, but they'll cost less than tax mistakes
○ If your situation changes or complications arise, don't wait for a crisis
● Use your tax return
○ Look at it and use it to plan for next year
● Don't put it off
○ If you have taxes due, don't procrastinate.
○ Make tax payments a priority to avoid unnecessary fines
Everyone works for the government…either on the payroll or the taxroll!
Things to ask before you hire a tax adviser:
● What services do you offer?
○ Prepare tax returns?
○ File tax documents throughout the year?
○ Bookkeeping and financial reporting services?
● What are your areas of expertise?
○ Find an adviser who will understand your circumstances
○ They may be great handling paychecks, but bad at handling IRS paperwork
○ Discuss your abnormal financial events
● What are your other services?
○ It's best to hire someone whose sole focus is taxes
○ Split focus can breed errors and complications
○ Avoid those who are paid by commission
● Why are you qualified for the job?
○ The more experience the better
○ Certifications don't equal quality work
○ Pay attention to work ethic and intelligence
● Are you very aggressive or very relaxed in enforcing tax laws?
○ Some preparers are too lax about going through your documents thoroughly, missing opportunities to save you money.
○ Some preparers are overly aggressive about going after your full refund and can spend your precious time and resources going after pennies.
○ A balanced tax adviser knows how to get your the maximum refund and prevent audits.
Doing your own taxes is a bit like a do-it-yourself mugging. Try not to beat yourself up.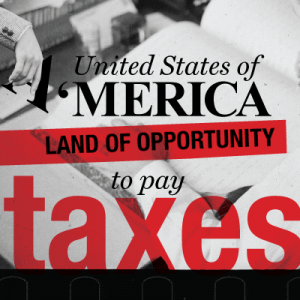 Sources:
http://www.house.gov
http://www.trygve.com/taxcode.html
http://www.fourmilab.ch/uscode/26usc
http://www.irs.gov/pub/tas/08_tas_arc_msp_1.pdf
http://www.dummies.com/how-to/content/small-business-taxes-for-dummies-cheat-sheet.html
http://cnsnews.com/news/article/penny-starr/11588500-words-obamacare-regs-30x-long-law