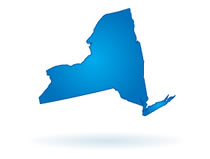 To earn a Masters in Accounting in New York, a person must first have their Bachelors in Accounting. The Masters in Accounting degree is for students who want to fulfill the 150-credit-hour license requirement in order to sit in for the New York State (NYS) Certified Public Accountant (CPA) exam. Anybody interested in increasing their knowledge in accounting and practicing legally in the state of New York must earn their Masters degree first. Students will take classes in income tax, auditing theory, economics, business law, finance and accounting. This degree will help students to become better accountants so that they can help their clients with their financial needs.
Once the Masters in Accounting degree has been received and students have passed their CPA exam, then they can find employment with businesses, schools and the government. They can also work in public accounting, with IT professionals or as consultants. Forensic and financial accountants are other career options for anyone who is a CPA.
Leading Masters in Accounting in New York
Fordham Graduate School in New York offers a 30 credit Masters in Accountancy program. There are three campuses associated with Fordham – the Rose Hill Campus in the Bronx, the Lincoln Center in New York City and the Westchester Campus in West Harrison. All ten classes in this Masters of Accounting program must be completed on campus. This program is one of the best New York Masters in Accounting programs. Regarding tuition, credit hours cost $1,199, making the total cost of $35,970.
The State University of New York Institute of Technology (SUNYIT) at Utica/Rome also offers a Masters of Science in Accountancy. This program requires 33 credit hours that can be completed online. The online option helps people earn their degree with much more flexibility than a traditional program. New York residents pay $390 a credit hour, and out-of-state residents pay $695, excluding any fees. SUNYIT offers one of the best online Masters in Accounting in New York.
Financial Aid and Scholarships For Masters in Accounting in New York
Fordham offers a few scholarships for students completing the Masters in Accounting degree. The Linda Perrin Taber Pollack and Roy Howard Pollack Scholarship is one of them. The Fordham GBA loan is also available to students who need more financial assistance than they have already received. Each student should fill out their FAFSA form in order to qualify for as many loans as possible. No grants from the government are available for graduate students. Fordham has a graduate assistantship program that will pay students for their work with faculty members and administrators. SUNYIT offers student employment jobs to help students to pay for their tuition. Student assistants can work as clerical, library or instructional media assistants. Graduate assistantships and Graduate Diversity Fellowships are awarded to full-time graduate students. Anybody trying to fund their Masters in Accounting in New York should consider the programs at Fordham and SUNYIT.