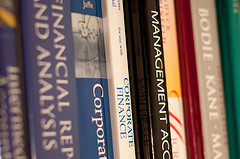 Choosing a college major can be difficult. For ambitious students who can't narrow down their interest in the world of finance to accounting only, pursuing two undergraduate degrees may be the answer. There are many benefits of pursuing a double major during your accounting education, especially if you choose to major in a related subject like finance. Not only will double majoring help you fulfill credit hour requirements necessary for taking the certified public accountant (CPA) examination, but it will also help you develop skills and a résumé that could impress potential employers.
 Similarities between Finance and Accounting
The many similarities between finance and accounting can be viewed as either positives or negatives when it comes to pursuing double major. On one hand, students can efficiently complete the rigorous requirements of both majors. They can sometimes complete both degree programs in a shorter amount of time than it would take to complete two unrelated degree programs, because some classes will fulfill multiple requirements. This can save these students both time and money. Critics, however, sometimes argue that because the programs of study have so much in common, it may be redundant for students to complete both. Still, undergraduate college degree programs in accounting and finance are so popular that some schools offer programs, including course schedules, for an accounting and finance dual major.
Differences between Finance and Accounting
Because there is a lot of overlap between the two subjects, it can be difficult for students to determine not only whether double majoring in finance and accounting is right for them, but even what distinguishes each subject. Accounting is all about financial information. It's about creating and organizing accurate financial statements and reports, including tax returns. Finance, on the other hand, is about managing money itself, not the information and reports accounting for that money and the management of money. These differences may seem small, but they can be important. Having an accounting degree is essential for advancing within the field of accounting, but having experience and an education in finance can also provide you with sought-after skills.
Whether or not double majoring in accounting and finance is the right path for you depends on a variety of factors. Completing the work to get two degrees is a big undertaking that requires a lot of study. If you are willing to make that commitment, the double major could provide you with a competitive edge in the job market, but if not, you could end up with a lower grade point average. Can you balance the academic demands of two degree programs with an internship? If you are dedicated enough, planning your courses ahead can help you succeed, according to U.S. News & World Report. Finally, consider your desired career path. If it involves a greater interaction with the world of finance than you would expect an accounting degree to prepare you for, then a double major could be the best choice for you.